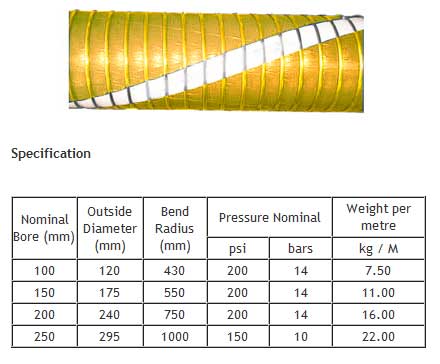 Description
Composite hose made from heavy duty polypropylene fabrics and films with a double layer of abrasion resistant PVC coated fabric cover.
The standard manufacture is with SS316 inner and outer wires.
Alternative options are with SS316 inner wire and galvansied steel outer wire, or polypropylene coated steel inner wire with galvanised or SS316 outer wire.
This hose is also available lined with layers of PTFE film.
Classification
Chemical Group 3 Hose
Principal Applications
Chemdock is suitable for heavy duty suction and discharge of bulk chemicals in road and rail tanker, dockside and ship to shore applications.
Manufacture
Complies with EN 13765 Type 3 (100-200mm) Type 2 (250mm) and AS 2117 Type 2 Grade 1
and 2 Electrical continuity is maintained by both hose wires being securely connected to the fittings.
Assemblies
All dock hose assemblies are supplied with factory fitted externally swaged end connections.
Temperature
Depending on the conveyant -30°C to +80°C.
Standard Production Lengths
20 metres